Pearl Jewelry
Pearls have long been a symbol of elegance, distinction, and opulence, playing notable roles in the lives of Queen Elizabeth II, King James I, and Edward IV. The association between royalty and pearls is no accident, as these gemstones create an indescribable allure that mesmerizes the wearer.
We bring expertise to our bespoke pieces, from traditional pearl necklaces to stud earrings, bracelets, rings, and more.

Design With Us Today
Pearl Selections for Custom Made Pearl Jewelry
The Intrepid Wendell travels the world to find breathtaking gems for our custom pearl jewelry creations.
South Sea Pearls
South Sea pearls are adored by many for their stunning cream, white, and golden colors. These pearls originate from the waters surrounding Australia and the Philippines and are typically larger, with some diameters extending over 20 mm. With their warm luster, these gems exude an undeniable elegance when used for luxury pearl jewelry.
Tahitian Pearls
Tahitian pearls begin in the Pacific Ocean, spanning from Mexico to the Philippines, and are regarded as one of the more valuable pearls in the world. While many call these "black pearls," they come naturally in captivating shades of gray, blue, green, and purple. A pearl that shows more than one of these notable colors at the same time has earned the name "peacock" in the trade. The darker tones hint at drama and intrigue, forging a bold statement for women's and men's pearl jewelry.
Akoya Pearls
Akoya pearls are widely prized for their consistent shape, color, and size. Many of these pearls originate from Japanese waters, though China also produces these white, cream, and pinkish pearls. These remarkable shades make the Akoya pearl perfect for crafting exquisite custom pearl jewelry pieces.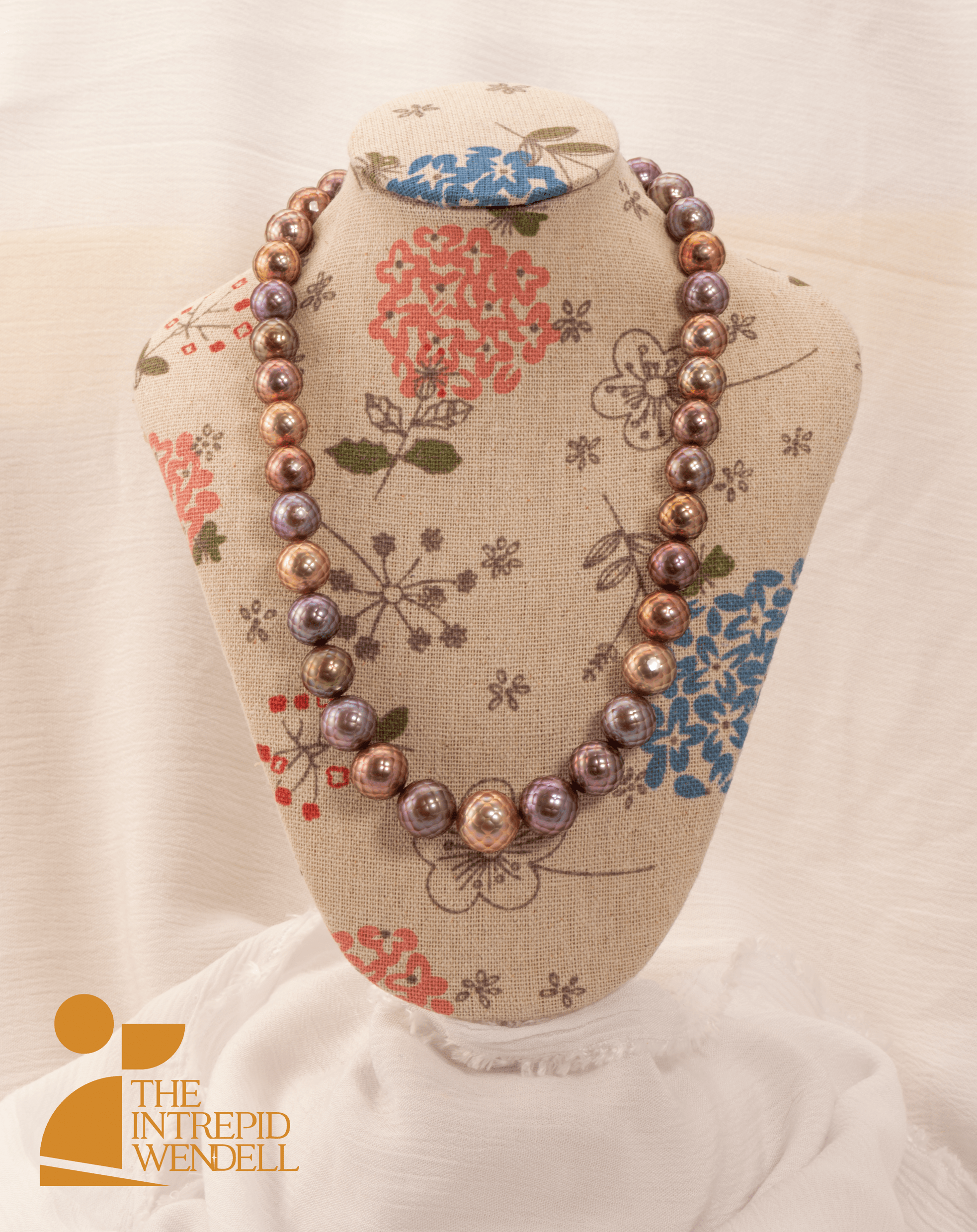 3 Reasons to Choose Luxury Pearl Jewelry
There are many reasons to add the luminous and versatile pearl to your jewelry box.
1. Pearls Symbolize Love.
Pearls were the gem of choice for Aphrodite — Venus in Roman mythology — the goddess of love. Artists often depicted her by the sea, her birthplace, surrounded by or wearing pearls. Embody the elegance and ethereal beauty of a Roman goddess with bespoke pearl jewelry.
Pearls are also the symbol for the third and 30th anniversaries, and The Intrepid Wendell can help you celebrate with a handcrafted heirloom your loved one will treasure.
2. Pearls Are Classic and Timeless.
For both women and men, pearl jewelry has a storied history. During the Roman Empire, Julius Caesar enacted a law permitting only the aristocracy to wear the highly valued pearl. Its association with wealth and power has persisted as pearls graced the necks of well-known fashion icons, Hollywood stars, and First Ladies.
These elegant and distinctive gems are versatile for all types of styles, and they span generations when cared for, making them natural family heirlooms.
3. Pearls Are a Sustainable Investment.
Many pearls today result from careful nurturing and cultivation, utilizing processes that are environmentally responsible and sustainable. The culturing relies on clean water and supports other living organisms for a healthier ecosystem.
Numerous factors can influence a pearl's worth, including its nacre thickness, color, size, and luster. Our gemologists offer high-end, graded pearls for an investment you can wear now as it grows in value for future owners.
Trust The Intrepid Wendell for Custom Pearl Jewelry
Adorn the pearl's unparalleled luxury and luminescence with The Intrepid Wendell. Let us share the joy by crafting a tailored piece to tell your unique story. Spark your imagination with our gallery of bespoke creations and contact us to request a design consultation.
Design With Us Today