2023
A Guide to Necklace Lengths
Necklaces are popular jewelry pieces for men and women, and their lengths can change the look. Explore the variety of necklace length options to determine which style is most attractive to you. These standard guidelines can be helpful when designing a custom piece.
Standard Necklace Lengths
With a necklace length chart, you can visualize where a piece might fall on you. Even so, it is important to remember that a necklace will lay differently on every person based on neck thickness, torso length, and other factors.
There are six standard lengths you can use as a guide.
16 Inches
A 16-inch necklace is often called a choker or a bib. It sits around the base of the neck and rests on the collarbone. You may prefer a 16-inch necklace for a more subtle look, though it complements many styles and can be more of a statement piece. The high placement of this option is suitable for higher and lower necklines. It also offers a subtle glint when worn with a collared button-down.
18 Inches
Princess necklaces are 18 inches long and are a popular length for men and women. An 18-inch chain will rest just below the collarbone. Wear this option with a plunging neckline to draw attention to your collarbone, or highlight the piece with a higher neckline.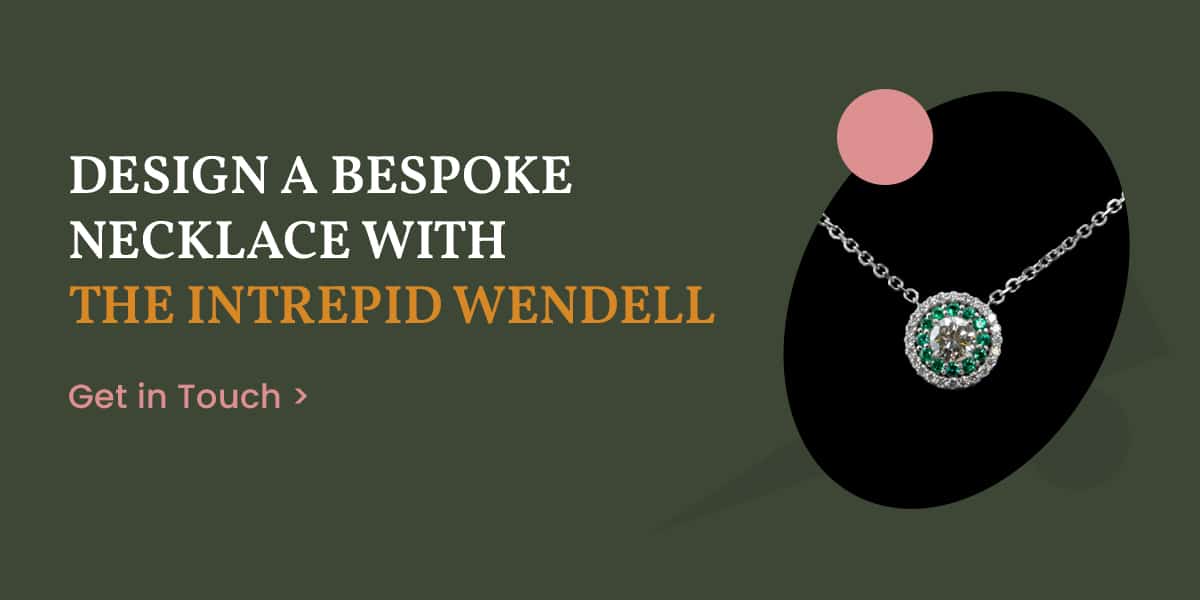 20 Inches
A 20-inch necklace is the first of three matinee lengths. This length falls at the top of the sternum and suits a range of necklines. These pieces are ideal for layering with shorter styles and complement many designs. Showcase a gemstone pendant with this length, opt for a subtle chain or choose any other design that speaks to you. The versatility of a 20-inch necklace makes it an excellent addition to any collection.
22 Inches
The second matinee length is 22 inches. This necklace sits between the clavicle and the bustline and works beautifully with low or plunging necklines. Like the 20-inch length, 22-inch necklaces are excellent for layering. You can also use these pieces as standalone chains, pendants, or other styles.
24 Inches
The third matinee length is 24 inches and falls just above or at the bustline. Layer a 24-inch necklace with longer or shorter styles to create a dynamic look. A longer length feels elegant with a delicate chain design or a small pendant, but it can also be a statement piece with bold stones and colors.
30 Inches and Above
A 30-inch necklace is also called an opera necklace. This category includes any piece ranging from 28 to 36 inches and sits below the bustline. Necklaces of these longer lengths were traditionally worn as evening wear, but they have become popular for daytime. These long styles suit bold pendant designs and delicate chains, either as single pieces or layered.
Design a Bespoke Necklace With The Intrepid Wendell
The Intrepid Wendell designs and crafts bespoke necklaces based on your unique vision. Get in touch with us today to begin designing.