Letters from Wendell
Whether at home or far afield, the company's namesake plush rat also known as The Intrepid Wendell loves to share his stories, thoughts, and perspectives. Join him and follow along to learn about jewelry, gems, and how going the extra mile makes all the difference in each bespoke piece of jewelry we make.
< Pan >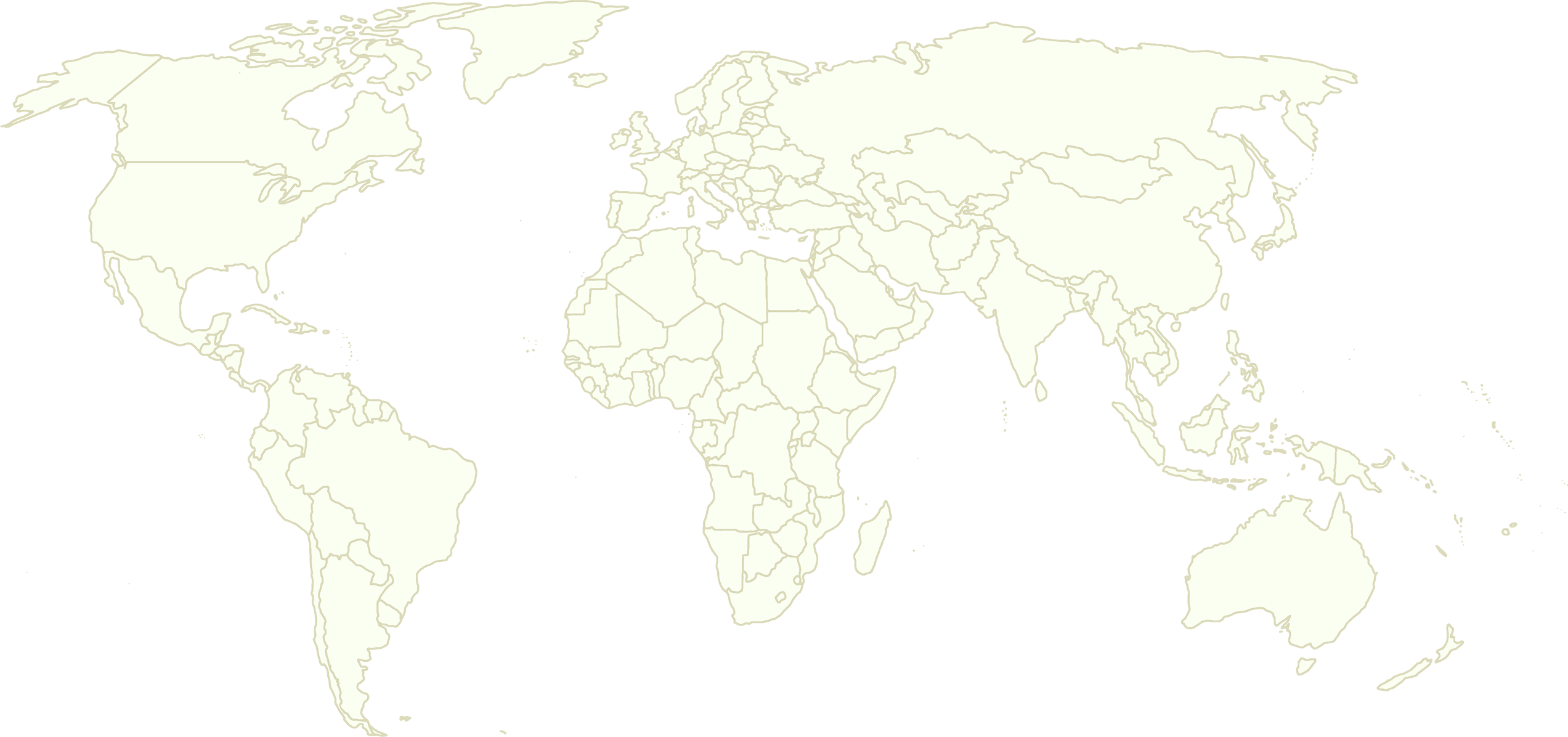 Skardu, Pakistan, 2021
Sphene
Sphene
Sphene is a rare and inspiring gemstone. It flashes green, red, orange, and white when it moves in the light. With every movement, colors dance tirelessly through the stone.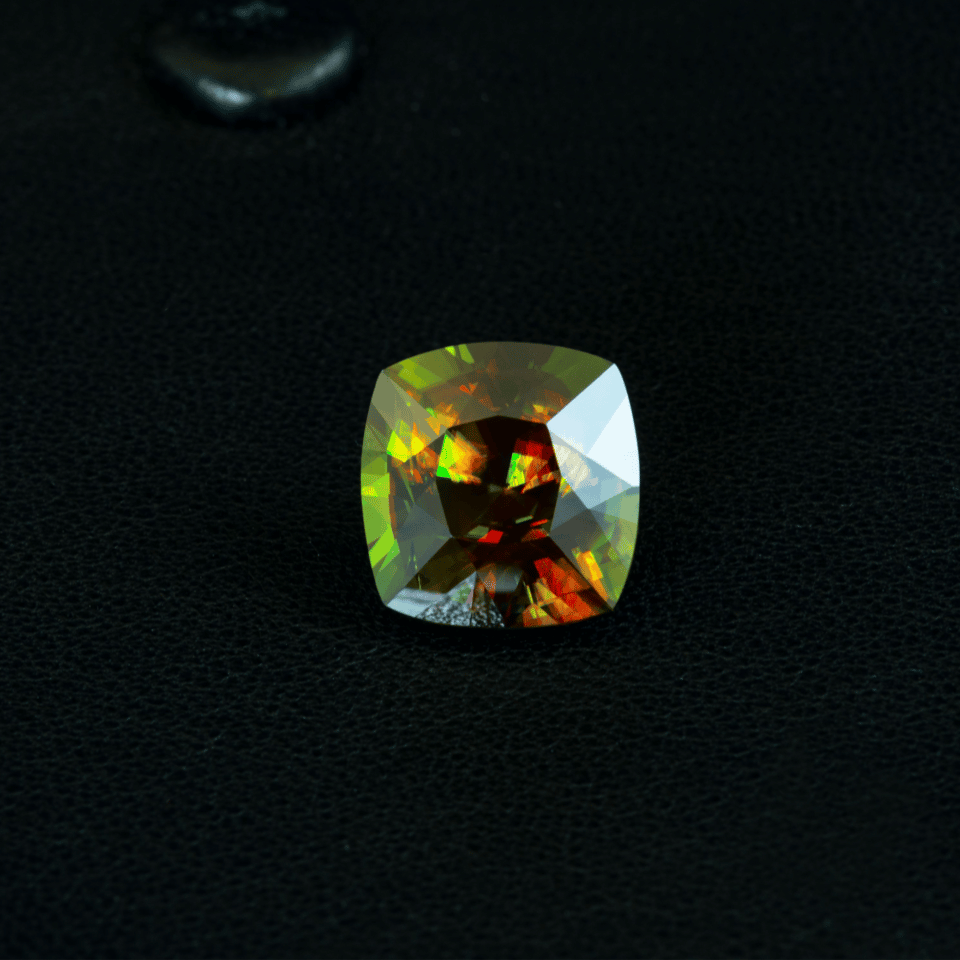 Sometimes called titanite because of its high titanium content, sphene possesses a unique optical effect called trichroism. When viewed from different angles, the stone refracts light in multiple spectra, including colorless, green, yellow, or red. Sphene has incredibly high dispersion. When light strikes the stone, it separates into wavelengths. This creates a dazzling display of light and color in a well-cut stone. In the very best cut stones, the color bounces against the lower facets of the stone, creating a brilliant show for the viewer.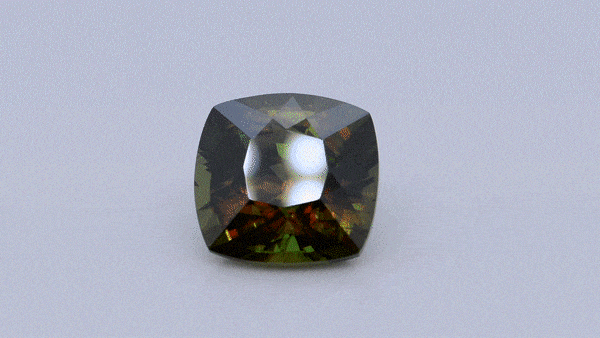 Sphene is mined all over the world in limited qualities. Because it is relatively soft, this stone is seldom made into jewelry and should never be worn in rings. Most fine sphene is kept in collections and out of public sight. However, we do not believe gemstones should be hidden away. Though sphene is generally collected and not worn, we believe these stones should be worn and loved. The Intrepid Wendell loves to share your joy – and the rare beauty of this uncommon gemstone.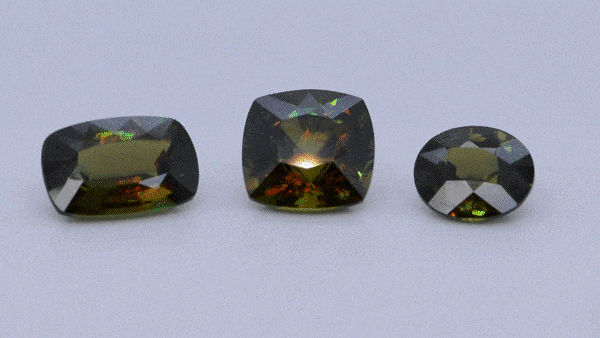 We currently have a small collection of museum-quality sphene and are preparing them for bespoke pendants. If you would like to view these unique stones, or possibly add one to your jewelry collection, come by our office and take a look at our show-stopping suite of stones.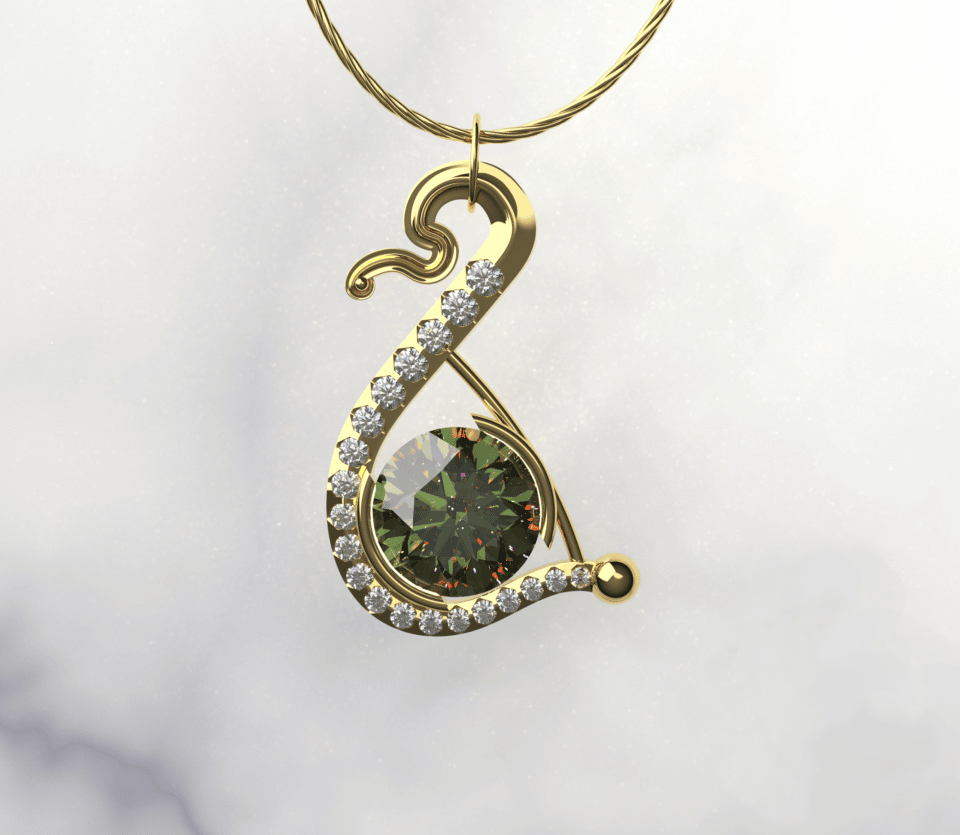 We love to share our beautiful gems with you. And we love to share your joy.
Delhi, India, 2021
Jewelry in Wedding Traditions
Jewelry in Wedding Traditions
The Intrepid Wendell has the wonderful opportunity to outfit family and friends with engagement rings and other wedding jewelry. It is a beautiful responsibility. The joy of celebrating love and marriage mirrors the importance of creating jewelry that represents the bond between people who love each other.
Often, clients who were once strangers become our fast friends. For us, it would be nearly impossible to create these intimate pieces of jewelry without coming to know and appreciate the people they are made for. Last year, we created many beautiful engagement rings for new and old clients, friends, and family. Many of them looked forward excitedly to their spring and summer 2020 weddings. Some even playfully bickered in our office over who would have more gemstones in their wedding bands.
Then, COVID-19 happened.
Like most people, we have received the letters, emails, and phone calls that say, in one way or another, "Don't worry about that 'Save the Date' for September — but look forward to receiving one next year!" Others are bucking formalities and just diving in, forgoing the gathering altogether.
Two weeks ago, an old acquaintance had a Zoom wedding. Another friend went to the courthouse with her groom and sealed the deal, promising a large reception for her friends and family in the future. A third friend had a quiet wedding in a church, which was attended only by a priest who stood exactly six feet away from the bride and groom.
When looking at the photos and videos of these unique weddings, a few things stand out: The officiant wears a mask; hand sanitizer is sneaking its way out of the groom's pocket; the wedding party behind the couple is replaced with an army of people on a screen crying and celebrating over a video call.
Yet some traditions comfortably remain. There is a beautiful bride glowing in a white dress. The newly married couple slips rings onto their partner's nervous fingers. There is kissing, dancing, passion, lots of laughing, and happy tears.
Our friends' wedding experiences this year are certainly creating some new traditions. Some traditions stand the test of time and some fade away (although we certainly hope that video call weddings never become normal). Looking at the evolution and history of wedding customs sheds new light on principles that help us understand just how special love and marriage are. Many of these customs are tied to jewelry, and these are some of our favorites.
Ancient Romans believed in the "vena amoris, or "vein of love." referring to a mythical vein that Romans believed ran from the heart to the ring finger on your left hand. This legend is believed to have inspired rings or cuffs made from hemp, leather, bone, and eventually precious metals.
Indian wedding jewelry also seeps heavily in tradition and belief. Not all modern couples practice these customs, and many of these rituals vary based on region, religion, or culture. There are hundreds of variations to the meaning behind the jewelry worn, or even the type. One could spend a lifetime studying these beautiful celebrations.
The visage of a traditional Hindu bride is awe-inspiring. She wears flowing silks in deep crimsons with shockingly intricate embroidery. Lavish henna drawings called mehndi to encase her hands and wrap up her arms, representing good luck and prosperity for the bride. The maang tikka crowns her head. A beautiful gold forehead piece, designed to rest on the sixth chakra, is said to enhance the third eye. Beautiful chandelier earrings in gold and pearl meant to ward off evil, tug at the bride's ears. A large and often ornate nose ring, called the bridal nath, is attached to ears by a chain. In some regions, this nath is worn to honor the Hindu goddess Parvati. Jingling anklets of copper or silver are worn to announce the arrival of the bride into the groom's home. Gold, which is associated with the Hindu gods, is not to be worn below the waist for anyone, not of noble birth. Possibly the most significant piece of jewelry is the mangalsutra, which translates to "holy string". The groom adorns the bride with this necklace and knots it three times in front of a sacred wedding fire. Traditionally, this necklace was meant to be worn until death or the end of the marriage. The mangalsutra's main fixture is the thali, a pendant that represents the love and respect that is held in the marriage.
The Irish are not quite as extravagant. The instantly recognizable and beautiful Claddagh ring features hands on the band of the ring, clasping a crowned heart. This ring first appeared in the seventeenth century. The hands represent friendship, the crown represents loyalty, and the heart represents love. The way the ring is worn might signify different statuses in terms of the relationship. When the heart is pointed down the finger, the wearer is single. If worn with the heart pointing up the arm, towards the heart (via vena amoris, maybe?) the wearer is taken. The ring is not very old in historical terms, is well-loved by many.
The Indian bride isn't the only one who wears jewelry on the crown of her head. The Stefana is a Greek wedding crown set worn by both the bride and the groom. Crowning during the ceremony is a mainstay of the Greek Orthodox wedding ceremony. A ribbon joins the two crowns to signify unity between the couple. The ribbon is expected to outlive the newlyweds, demonstrating their eternal love and commitment. The crowns themselves show the couple as the king and queen of their new life and home, which they are to rule with wisdom and integrity. During the ceremony, a priest blesses the couple and then places the crown on their heads. The crowns are then switched three times between bride and groom as blessings are said and the union is witnessed.
Wedding traditions are a beautiful part of humanity. The diversity of weddings customs is a testament to the importance of love. Whether you postponed your wedding, or if you chose to say your vows and dance with your family over FaceTime, the important part about wedding traditions is they represent your love and commitment. Whether it's breaking glass, henna art, money dances, or burying the bourbon, sharing joy and loving one other is what ties every wedding tradition together.
If you had a 2020 wedding planned, The Intrepid Wendell wishes you the best of luck on your new life together. And no matter how you chose to start it, we would love for you to stop by sometime to tell us about your own wedding day and traditions.
Tahiti, 2020
Pearl Primer
The elegance and luster of pearl captivate the eye and the imagination.
It is said that diamonds are a girl's best friend. But I believe that pearls are a woman's — or a man's — best treasure. Queen Elizabeth I of England loved pearls so much she had them sewn into her sheets. Queen Elizabeth II was married in 1947 in a wedding dress decorated with 10,000 seed pearls. World War II had just ended, and the dress was paid for using ration coupons.
It isn't just women who have fallen under the allure of the pearl. Mexican diver Kino, in John Steinbeck's The Pearl, finds one so grand that he calls it "The Pearl of the World." The Maharaja of India powerfully wore a series of pearl ropes from the Arabian Sea.
The lavish Edward IV of England possessed a toothpick made of gold, decorated with diamond, ruby, and pearl. King James I of England and VI of Scotland wore a hat pin called "The Mirror of Great Britain" to represent his hope for a United Kingdom, which included massive diamonds and two large pearls.
Pearls are entirely organic in nature and are made of aragonite and conchiolin. The luster that makes pearls beautiful is produced when light is reflected off aragonite and conchiolin. Aragonite and conchiolin are secreted by the animal to surround a foreign body that has entered the pearl. In natural pearls, usually they are secreted to wall off a parasite that has entered the animal through its shell. In the case of cultured pearl, the secreted wall surrounds a bead nucleus that is inserted by hand into the animal.
Many animals produce pearls. Even snails and periwinkles can produce pearls. The three most common saltwater pearls on the market today are "Akoya," "Tahitian," and "South Sea." They come from three different varieties of oyster. Freshwater pearls are also very common and are cultured to grow inside farmed mussels.
Akoya pearls are typically about 7~ to 9~ mm in size and are white, cream, or pinkish in color. They grow inside the pinctata fucata oyster. The first successfully cultured oysters were the Akoya, and the vast majority of them are farmed in Japan, although Korea and Vietnam produce them as well.
Tahitian pearls are normally larger than Akoya pearls, measuring between 8~ and 11~ mm and grow in the pinctata margarifitera oyster. These pearls come in many different hues, from black and silver to blues and greens. Some Tahitian pearls, called "peacock" in the trade, have orient in multiple hues. Grown all across the Pacific Ocean, from Mexico to the Philippines, these pearls are often strung together in mixed colors strands.
The largest commonly worn pearl is the elegant South Sea pearl. Much larger than either the Akoya or the Tahitian pearl, the South Sea pearl comes from the pinctata maxima oyster, which is about the size of a dinner plate! Billowy and luxurious in white or gold, these pearls are the mark of sophistication.
The Intrepid Wendell is a merchant of fine pearls of all types. We would love to share our knowledge of this treasure with you.
Colombo, Sri Lanka, 2020
Gold Chains
Gold Chains
The Intrepid Wendell has expertise in chain making.  Gold, silver, and platinum are pliable – almost magically so. Since the earliest recorded history, their flexibility has inspired humans to weave chains using links of these precious metals.  Worn to display wealth, show love, protect from evil, and to decorate, gold rope chains and gold link chains are a highlight of any wardrobe.
Every January, we travel to Vicenza, Italy, where the latest technology in mechanized chain making is displayed.  We see wonderfully precise machines from Italy and Germany forming gold and silver into high-quality chains at many inches per minute.  Popular items like tennis chains and Cuban link chains made by German and Italian technical equipment are stunning.
Precision has its virtues, but well-made handcrafted items can be even more luxurious, especially if made according to age-old traditions. The Intrepid Wendell offers gold rope chains that are made entirely without 21st Century tools.  These chains begin as either ingots or coins that are alloyed to the desired karatage and then hand-drawn into wire.  Using special knitting needles, the chains are woven by hand.  Oftentimes, the person knitting the chain will say prayerful devotions, literally weaving prayers into the finished product.
The weavers are borne from a tradition of proud, yet nervous, royals. By weaving complicated and elegant chains out of the metal in their treasuries, they were sure of two things: They would be the fashion icons of the realm and they would never be separated from their wealth.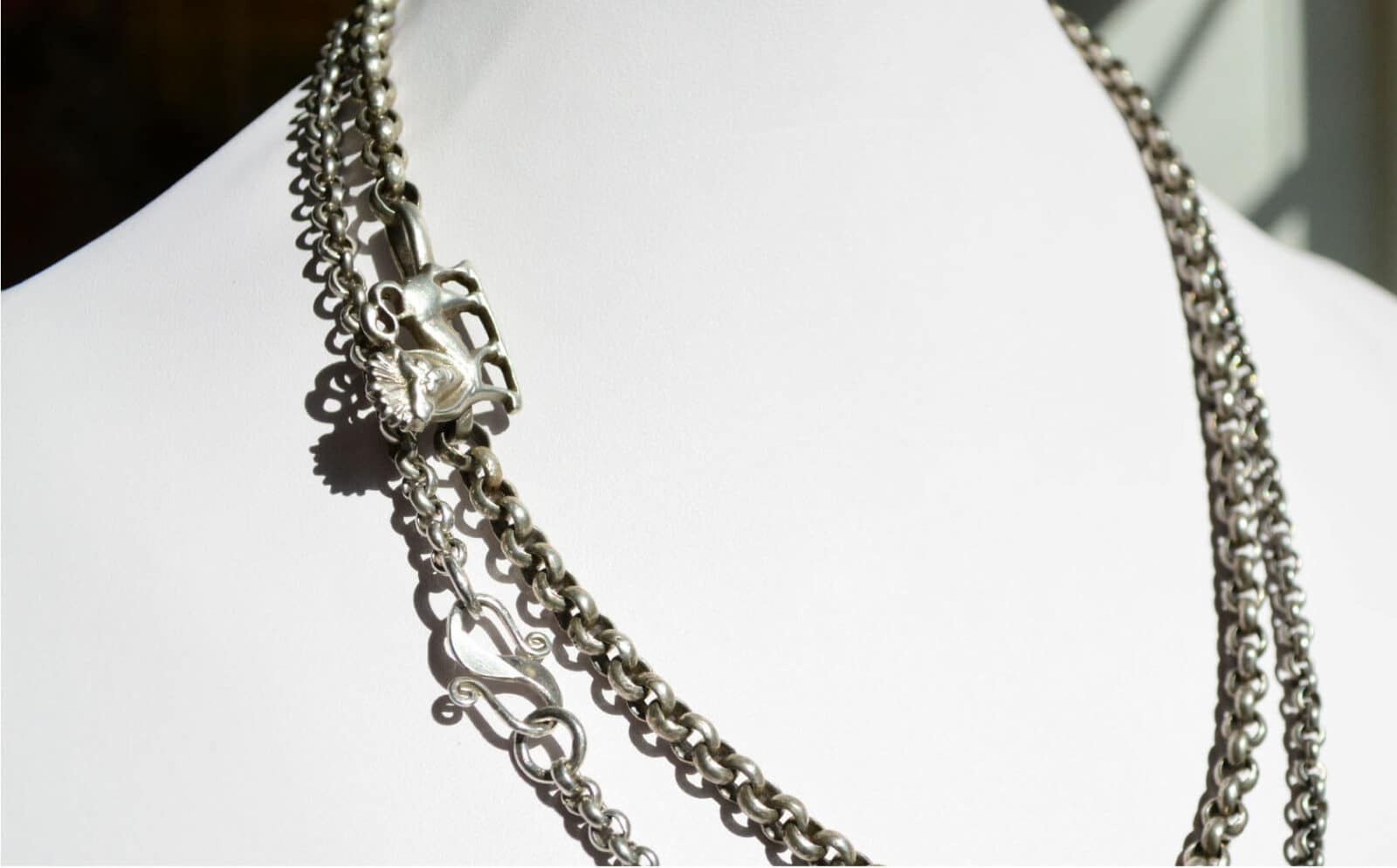 Dubai, United Arab Emirates, 2019
The Intrepid Wendell's 2019 Travelogue
In 2019, we have emphasized celebrating beauty and researching designs and materials.  This new website caps a year of inspiration at The Intrepid Wendell.
2019 has seen us in the tundra and the tropics.  We hiked in the highest mountains and strode on frozen rivers.  We met old friends at familiar haunts and paused for newfound experiences.
Creative people often have sensitive hearts.  This year, our hearts were especially touched in Sri Lanka very shortly after the brutal Easter Sunday terrorist attacks.  In Hong Kong, our emotions sometimes lacked for words as we directly saw the people of Hong Kong protest for their cause.
The Intrepid Wendell shared joy all around the world, staying over 125 nights in hotels, inns, and houses.
We visited these cities in the USA:
1.      Carlsbad, California
2.     Denver, Colorado
3.     Fairbanks, Alaska
4.     Las Vegas, Nevada
5.     Los Angeles, California
6.     Nashville, Tennessee
7.     New York City, New York
8.     Richmond, Virginia
9.     Tucson, Arizona
And visited these countries:
1.      Belize
2.     Bhutan
3.     Estonia
4.     Germany
5.     Honduras
6.     Hong Kong
7.     India
8.     Italy
9.     Mexico
10.  Singapore
11.   Sri Lanka
12.   Thailand
13.   United Arab Emirates
14.  UK
We traveled on these airlines:
1.     Air India (AI)
2.     Alaska Airlines (AS)
3.     Cinnamon Air (C7)
4.     Druk Air (KB)
5.     Emirates (EK)
6.     Lot (LO)
7.     Lufthansa (LH)
8.     Silk Air (MI)
9.     United (UA)
On land, we rode on these railways:
1.      Amtrak
2.     Dubai Metro
3.     Hong Kong MTR
4.     Indian Railways
5.     Italian State Railways (Trenitalia)
6.     London Underground
7.     New York City Subway
8.     Sri Lankan Railways
9.     Tallinn Transport
10.  Washington Metro
And finally, we rode on countless buses, vans, sedans, jeeps, Ubers, Lyfts, shared cars, taxis, tuk tuks, e-bikes, conventional bicycles, water ferries, and camels.
Going above and beyond to bring the best to share is an ethic that will never fade in our house.
Peace on Earth and Joy to All.
2019
Best Beer and Breweries in Colorado
Adolph Coors set up a brewery in Colorado in 1873. Three years later, Colorado became a state. Yes, beer came to Colorado before statehood. From that proud tradition, the home brewing and craft beer movement have taken root in Colorado, yielding some of the world's finest beers from amber ales like Fat Tire to a Belgian style-white like Blue Moon to Pilsners like Coors Banquet. These beers were a message from Colorado to the world. And so, the world has answered by sending their best brewers to the Rocky Mountains. 
The result is a booming industry that brings $2.7 billion of value to the state.  Colorado produces more beer per capita than any state in the US.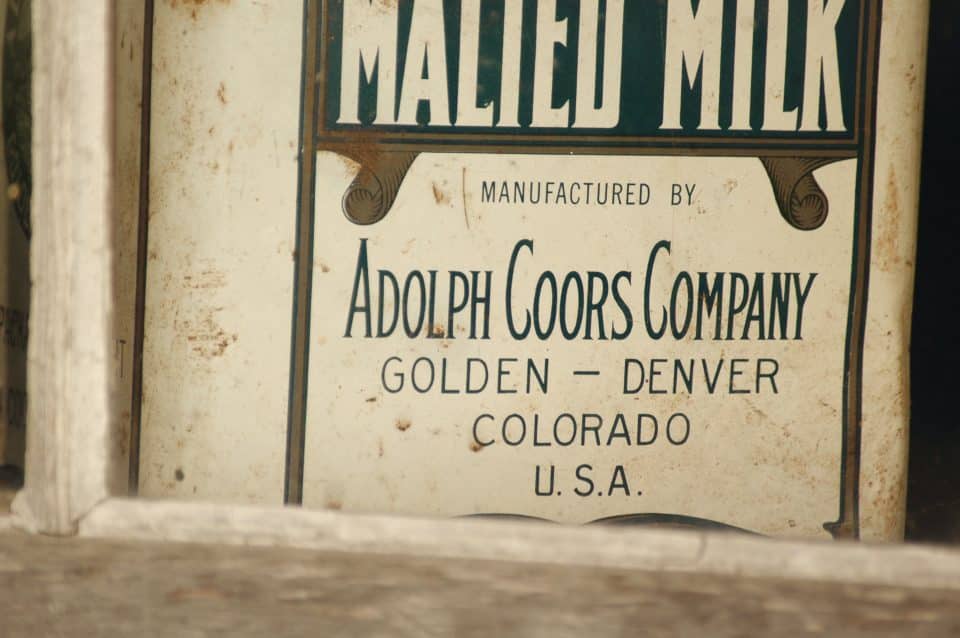 What is the History Behind Brewing in Colorado?
Colorado was designed for brewing beer. The crisp autumns, the cold winters, the rocky soil adept at growing grain, the freshwater trickling down the Rocky Mountains. It's an idyllic place to brew beer with the perfect population to drink it. As Colorado was settled in the 19th Century by gold miners, those miners were thirsty. In 1859, Rocky Mountain Brewing established the first brewery in the state. It only lasted a year, but by 1873, the town of Golden became home to the beer most associated with the Centennial State: Coors.  
Breweries thrived in Colorado until Prohibition laws stopped the industry in its tracks. Coors managed to diversify, selling malted milk and dinnerware, but the rest of Colorado's breweries shut down. A half century later, Charlie Papazian founded the American Homebrewers Association and started the Great American Beer Festival in Denver.  Out of this movement came thriving breweries like New Belgium and Odell and microbreweries like Front Range and Breckinridge. Today, Colorado is known for its vibrant craft beer scene.



Why is Colorado Considered a Top Destination for Craft Beer?
If you want to do a statewide tour of breweries, there's no better place to do it than Colorado. Start with the beer that tapped the Rockies by heading to Golden for a tour of the Coors Brewery. Golden itself is a gorgeous mining town outside of Denver that seems like it was frozen in the late 19th Century. Coors is the world's largest single-site brewery, an old fashioned factory on the banks of the Clear Creek. The endless mountain views is what makes Colorado an ideal state to enjoy a beer. 
A half hour away in Littleton, you'll find the Breckenridge Brewery.  A microbrew scaled up to be available in the lower 48, the 12 Acre campus includes the Farm House restaurant and a 100 barrel aging room. 
If you drive an hour north to Ft. Collins, you can enjoy a 90-minute tour of New Belgium Brewing Company that concludes with a curated flight including New Belgium's signature beer Fat Tire Ale. 
Then, head to the capital city of Denver, home to Blue Moon, which was born at the Sandlot Brewery within the baseball park at Coors Field. Denver has such a thriving microbrew scene that the best Colorado beer we haven't even heard of yet will be available by the time you visit. 
What Are the Top Events to Visit in Colorado for Craft Beer?
Every October, the finest makers of craft beers from all 50 states come to Denver to celebrate the Great American Beer Festival. For the past 40 years, the festival has spawned a microbrew movement, taking the spirit of Colorado beer all across the nation. The event showcases over 500 breweries, 2000 plus beers, and 10,000 beers are judged to crown winners in over 25 subcategories. Denver is the ideal place for such an event, with its central location and laidback enthusiasts, Colorado beer is about the hard work that goes into chilling.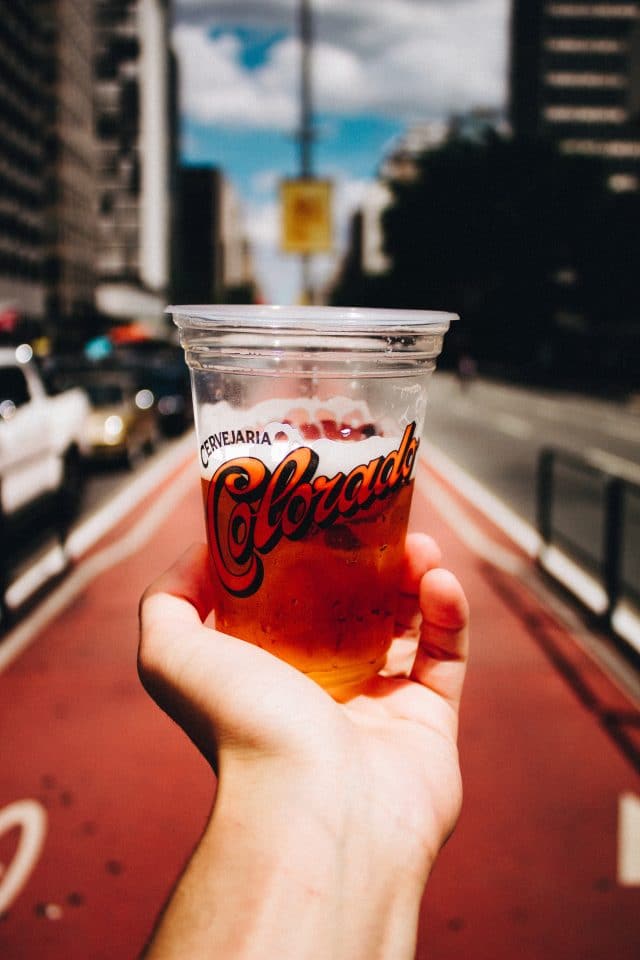 What Makes Colorado Beer Taste So Good?
It's the water. Fresh water trickles down from the snowmelt in the Rockies, making the supply ample and the water quality ideal for brewing. The foothill soil is perfect for growing barley and the climate gives Colorado some of the finest brewing conditions in the world. On top of that, the sheer number of microbrews aligned with the big brewers has made Colorado the "Napa Valley of beer." It attracts the most innovative brewers and deepest talent pools for beer making in the United States. When you add these qualities together, you get a beer industry as eclectic and great tasting as Colorado Beer.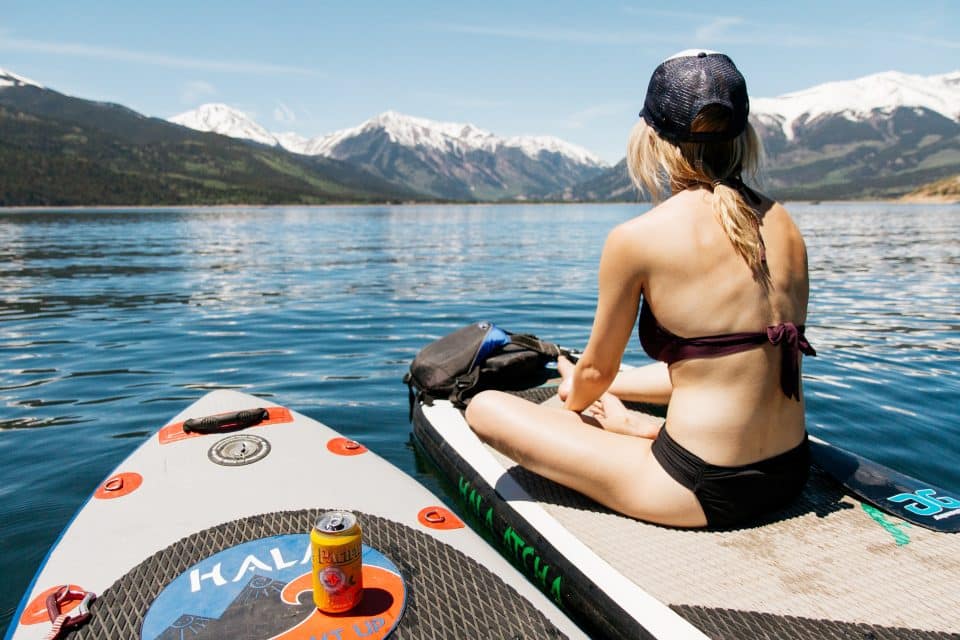 Conclusion
There is no better environment for drinking a cold beer than in the shadow of the Rocky Mountains. With over 335 breweries and thousands of craft beers to choose from, you can't go wrong with Colorado beer. 
If you love movies, go to California. 
If you love politics, go to DC. 
If you love beer, come to Colorado.


Longmont, CO, 2019
On Friendship and The Elliot Clef
This year, I had the great joy of meeting and becoming friends with the conductor of the Longmont (Colorado) Symphony Orchestra, Dr. Elliot Moore.  I met Elliot with my parents over a memorable meal of Colorado buffalo and Italian wine.
I liked Elliot immediately.  His enthusiasm for music, his vision for music as service to the world, and his charm were impressive.  We sat together breaking bread and sharing joy for four hours.  I asked Elliot if I could make a piece of jewelry for him to wear as my personal salute to his artistic vision.
Inspiration for the piece wasn't hard to come by: Elliot loves Bach and so do I.  Elliot sent me a handwritten note after our dinner.  His penmanship immediately reminded me of a special signature by our favorite musician.
J.S. Bach was a profound musical geek who had a clever way of signing his name. Other musicians reading this can decode the image into a name by turning the picture ninety degrees at a time. As the staff ligature changes, the letter of the note on the clef changes from B to A to C and finally to H. Quite a signature.
Back at Wendell's office, using the magic of technology and our idea of making a signature lapel pin, we took Elliot's signature and placed it on a staff.  However, unlike Bach's name, which revolved around the four existing clefs, we decided that Elliot's name should become its own clef.  Completing the design is a breve on the staff after Elliot's signature.  The breve is a marking for a double whole note, which is the longest duration of note for which there is a standard notation.  The piece is made in 18-karat cast white and yellow gold and attaches to a garment with two 14-karat gold straight pins.
Only Elliot can define how that note will sound on his own clef.  But it is my great hope that I will learn – over many years of growth and friendship together – how Elliot's clef sounds.  And it is with great joy that we at The Intrepid Wendell can share our playful adaptation of Elliot's signature with him.
We have had a wonderful and joyful year at The Intrepid Wendell and have made many new friends along the way.  We look forward to a prosperous and joyful 2019.
New Orleans, LA, 2019
The Jewelry We Wear to Say Goodbye
Jewelry has been around for a long time. Humans have been adorning themselves with gemstones throughout recorded history. Nowadays, stones are used to guide the airplanes we travel on, keep time, treat sickness, and do many other awe-inspiring things. I believe that almost all of them make things better and more beautiful.
Today, I had the profound joy of joining a group of friends, family, and parishioners to send Wagdi Hanna to the next stop in his celestial journey. The men and women of St. Mark's Coptic Orthodox Church in New Orleans prayed, chanted in English and Coptic, remembered, perfumed the air with incense, and wept. They shouted names and tasted the moment when this dearest man met death and began his next life.
The congregants at the funeral wore their finest gems and jewelry to say goodbye to Wagdi.  The jewels also remind us that we are still alive: that we are still here and our bodies are still beautiful, strong, vibrant, and asking for adornment.
Wagdi's body lay in a coffin at the base of a golden and jeweled iconostasis. Pearls, the historic Egyptian symbol of accomplishment and power, hung around many necks. Even the priest mentioned his special white robe, which was fine and embroidered in gold and gemstones.
Many Americans think of a wedding ring as the quintessential piece of jewelry. However, doing so forgets all of the other gems and jewelry that are around us every day.
We need and use jewels for many reasons. Often, the gems speak for us when we don't have words.
R.I.P. Wagdi.
Tallinn, Estonia, 2019
Wendell in Estonia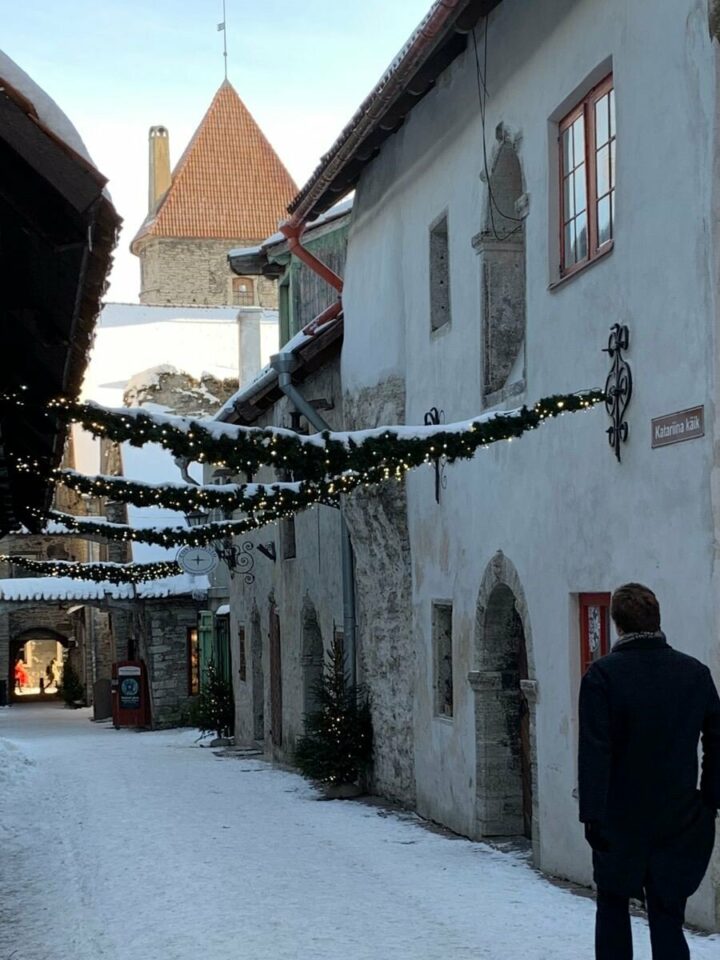 Wendell is frequently on the road.
Last year, we counted hundreds of thousands of miles on jets, propellers, helicopters, floatplanes, trains, subways, busses, cars, vans, three-wheelers, and rickshaws.
We do this because the best things rarely come knocking on the door. We know that, in order to truly give our clients an experience that matches the joy they share, we have to go find the pulse of humanity for ourselves and bring it home.
This week, we found ourselves in frozen Tallinn, Estonia. Estonia is celebrating 100 years of independence but has been ruled by other sovereign crowns over much of the past 1000 years. Their own language of Estonian has been supplanted by Swedish, Russian, German, Finnish, and now English as the language of convenience. Today, the Estonian spirit is thriving and has found itself as a member of the European Union and NATO.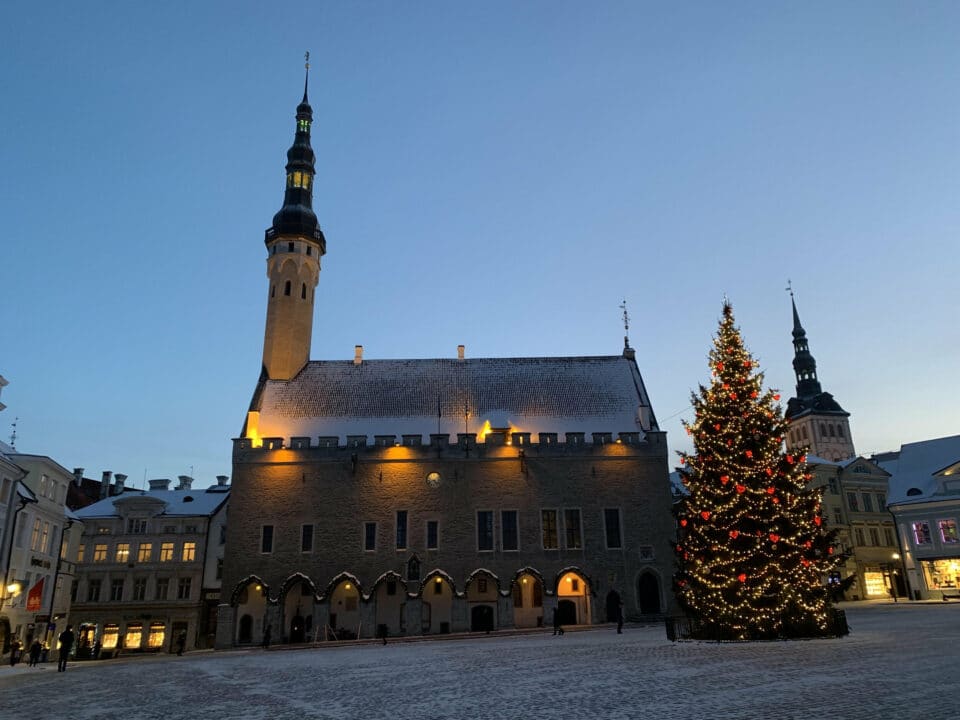 In the cold and dark of 60 degrees north latitude, we shared in a private and fearless jewelers' scene. With the knowledge and information, we have gathered here, our own work can acknowledge the inspiration of the Estonians who were casting gold in the centuries before the Christian Era and the artists who work today.
Washington D.C., 2018
The Top 7 Airport Lounges In The World
Travel is an art. It's a blend of luxury and leisure, converting experience into memory. Time spent in airport terminals is forgettable at best, and regrettable at worst. You are overcharged, underappreciated and processed like livestock. That is precisely why spending that time in a first class airport lounge is worth its weight in gold. It's a relaxing oasis every traveler should experience.  And so, if you're traveling through any of the following cities, consider yourself fortunate. These are the Top 7 Airport Lounges in the World.
The Top 7 Airport Lounges In The World
Opened in 2021, a brand new, two story First Class Lounge offers "La Premiere" service. A car will pick you up and check you in directly at the Lounge. Once inside, the appealing, retro modern aesthetic graces the lounges, echoing the stylish luxury of the Jet Set Era. The food and beverage selection are genuinely world-class, anchored by a first-class restaurant where the menu was crafted by Micheli chef Alain Ducasse.  Even coffee and water are served on silver platters. The curved interior puts you at ease, leading to a wellness area featuring a full-service spa and beds for relaxation.  Access to the Lounge comes with every Business and First Class ticket, and is available a la carte to all Air France passengers for an additional fee.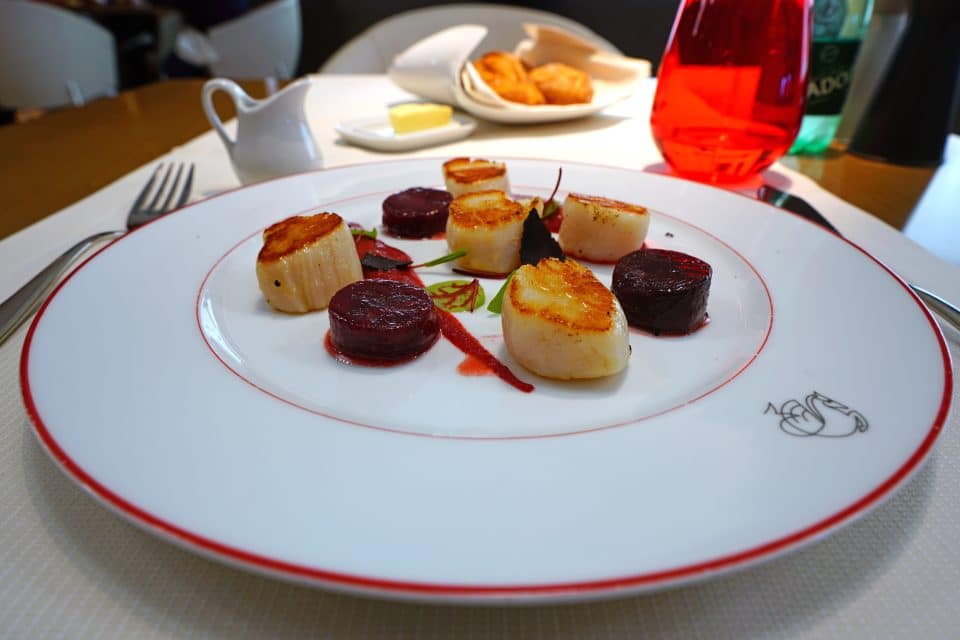 At Frankfurt Airport, a First Class lounge will not suffice. Lufthansa opened an entire terminal for First Class passengers. Pull your car up to the terminal, and a valet will park it. Enter the space filled with easy chairs for relaxation, and office space for business travelers. Food & beverage menus are premium, served a la carte. The bars offer over a hundred different whiskies. There is even a private cigar lounge. The Terminal is available to all First Class Lufthansa passengers, and you may invite a ticketed guest from the same flight to accompany you.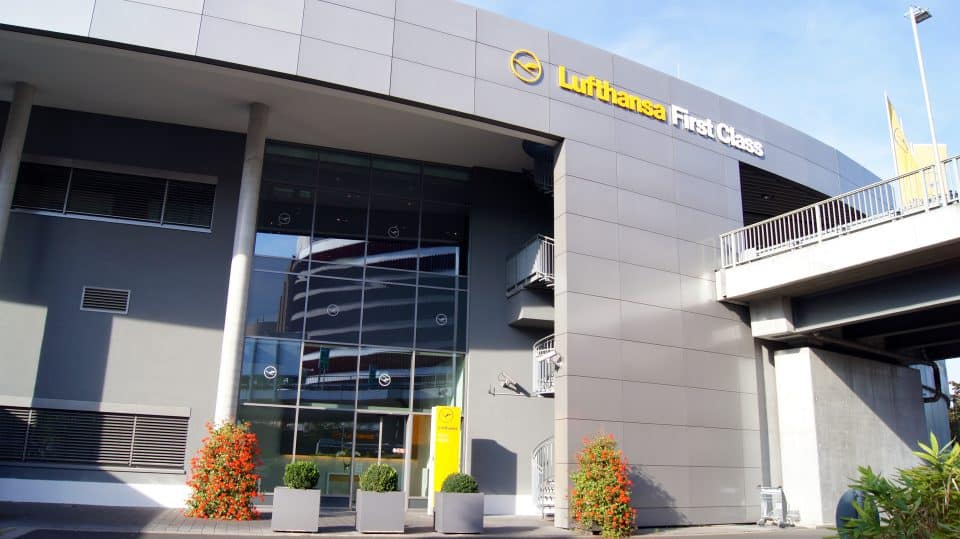 Swiss offers several lounges at Zürich Flughafen, but none more luxurious than Swiss First Lounge E. When you first arrive, a wine humidor greets you with over a thousand wines from across the globe. For business travelers, Swiss First Lounge E features two hotel rooms, mini suites that seat 4-6 for rest or work, a VIP room, and a Conference Room.  There are two restaurants, one a 5-star á la carte restaurant where chefs fulfill individual culinary wishes, and an American Diner.  The lounge offers travelers private bedrooms with comfortable beds and a breathtaking view of the Alps. Finally, if you need fresh air, step out on the 352 m² terrace.  Access is available to First Class guests on SWISS, Lufthansa and HON Circle.
The Pier is Cathay Pacific's newest First Class Lounge at Hong Kong International Airport. Uniquely conceived, the Pier distills essential Hong Kong experiences into a single location for travelers. Elegant spaces like the Teahouse and Noodle Bar can only be experienced at the Pier. Adorned with soothing wooden walls and earthbound ambiance, the lounge creates a sense of home while you are passing through. Access is available to First and Business class passengers and Oneworld partner program members.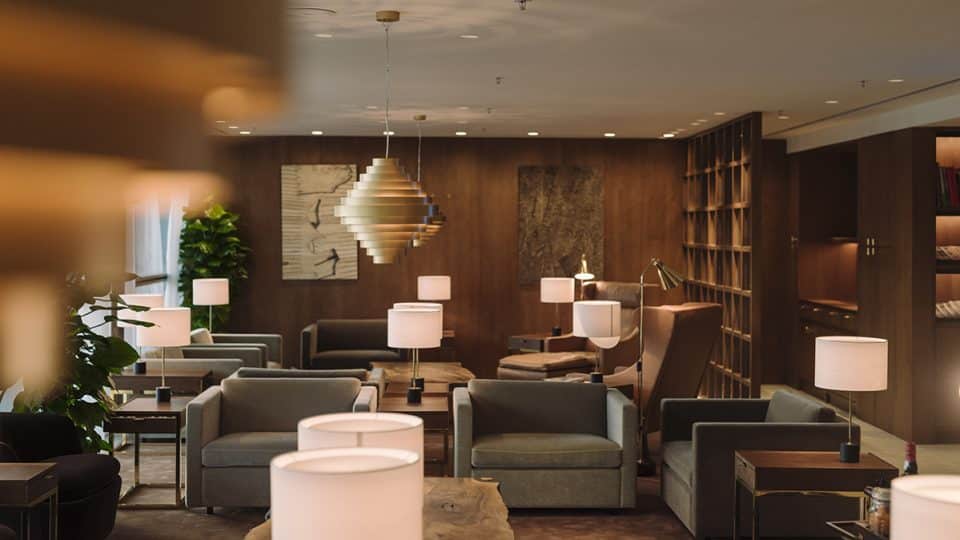 Etihad's First Lounge at Abu Dhabi International Airport is ideal for fit travelers as it's the only lounge on the list featuring a gym. Open 24 hours a day in Terminal 3, the lounge boasts Middle East inspired dishes, beverages from the Etihad cellar and premium cigars. Private VIP rooms grant you a much needed space to relax. Or if you would prefer to workout before your flight, the Fitness Room is at your disposal. Available to Etihad Guest Platinum members or First Class flyers, all passengers at Abu Dhabi may pay to access First Lounge.
A private oasis at Suvarnabhumi Airport, Thai Airways Royal First Class Lounge is replete with spectacular amenities like an hour-long, complimentary massage.  Featuring á la carte dining, shower suites, and sleeper rooms, the First Class Lounge is the perfect place to recharge before an international flight. Given the stress of air travel, what better place to receive a massage?  The Lounge is reserved for elite status and premium ticket passengers.
Less than one year old, United's Polaris Lounge at Washington Dulles Airport is where power brokers recharge before long-haul international flights. Only accessible to travelers with a First Class or Business Class ticket, the Polaris lounge boasts 355 comfortable chairs, many within pods with a table top for dining, work, or charging electronics. There are two restaurants – a self-service buffet and an a la carte restaurant.  A bar is centrally located in the lounge. Its modern design makes it a focal point.  There are 13 individual restrooms, six shower stalls, and two private sleep pods reservable for up to 60 minutes at a time.  For international dignitaries, there is no better way to arrive in the United States.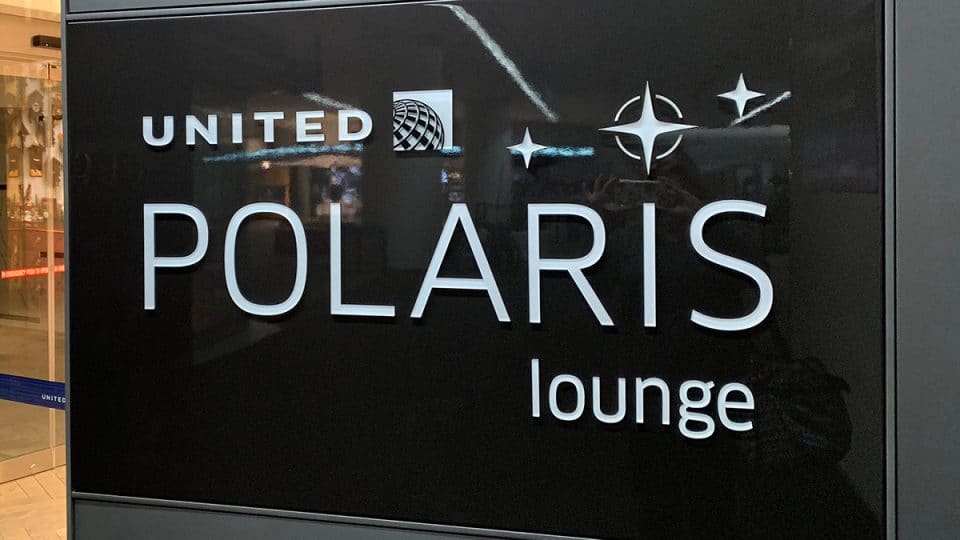 Conclusion
Few of us enjoy layovers at the airport. Those who do, must frequent places fitting the title Best Airport Lounges in the World.  These seven lounges represent state of the art luxury in travel. Waiting in airports is necessary. These First Class lounges make waiting a true pleasure.
Subscribe to our Newsletter, Joyfully Cast
Sign up to receive Wendell news & updates
"*" indicates required fields